Please be aware our custom weapon service is currently unavailable and we won't be making custom orders for the time being. This service will resume later in the year. Please see the FB page for updates.
Welcome to Hack and Slash!
We are makers of latex weapons for use in films, Cosplay, Live-Action Role-Play, theatre and anything else that needs a bashy weapon! Commissions are accepted for bespoke designs of weapons you've always wanted and we give bulk order discounts as well.
Here at Hack and Slash our wealth of experience and awesome artistic abilities are focused on YOUR orders!
Should you require our friendly and reliable service, please drop us an email and tell us what you're after at;
hackandslashweapons@outlook.com
or pop onto our
Facebook Page
and send us a message!
| | | | | |
| --- | --- | --- | --- | --- |
| | | | | |
| | | | There's been several fixes done to the site so all the pages should seemless and work nicely. | |
| | | | We post loads of cool stuff on Face Book all the time. The majority of our recent pics can be seen there, so why not pop over and check it out? | |
| | | | Hack and Slash are currently not making custom orders, but we are busy stock making and will be visiting events to sell our kit! The custom order service will resume later in the year and we will be posting updates on the FB page. | |
| | | | New to the downloads section, there is a new section for posters! We have a couple up so far and more will follow in the future. Have a look and grab stuff if you want! :) | |
| | | | | |
No matter how big the project, our studio is equipped to deal with it and we love our big projects!
Hack and Slash have experience in making batches of weapons to meet particular themes for groups who want to maintain continuity throughout. Themed weapons don't have to mean 'all the same', they can be weapons, which, have very different shapes but are painted to seem that they are part of a set.
Or maybe you are an organisation that's looking to purchase your own stock of NPC/Monster weapons to use against your players? If so, we can certainly help and make a batch of weapons of varied designs and flavours.
Discounts are available for larger orders! Please drop us a line!
QUALITY IS IMPORTANT TO US

All weapons made by Hack and Slash pass an in-house quality check before being dispatched to the customer.
We use a variety of specialized detailing, including freehand painting, vinyl graphics, airbrushing, embossing and engraving.
NO PROJECT TOO SMALL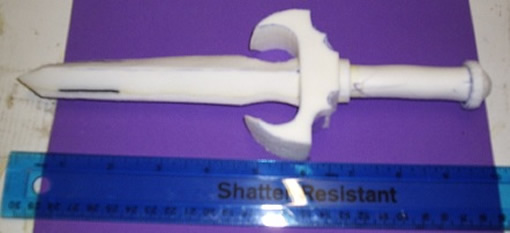 If you want us to build a weapon that has very specific measurements, we can do this for you! All you need to do is send us the details and we can work to the dimensions required!
| | | |
| --- | --- | --- |
| | | |
| Sketch | Constructed Design | Finished Piece! |
| | | |